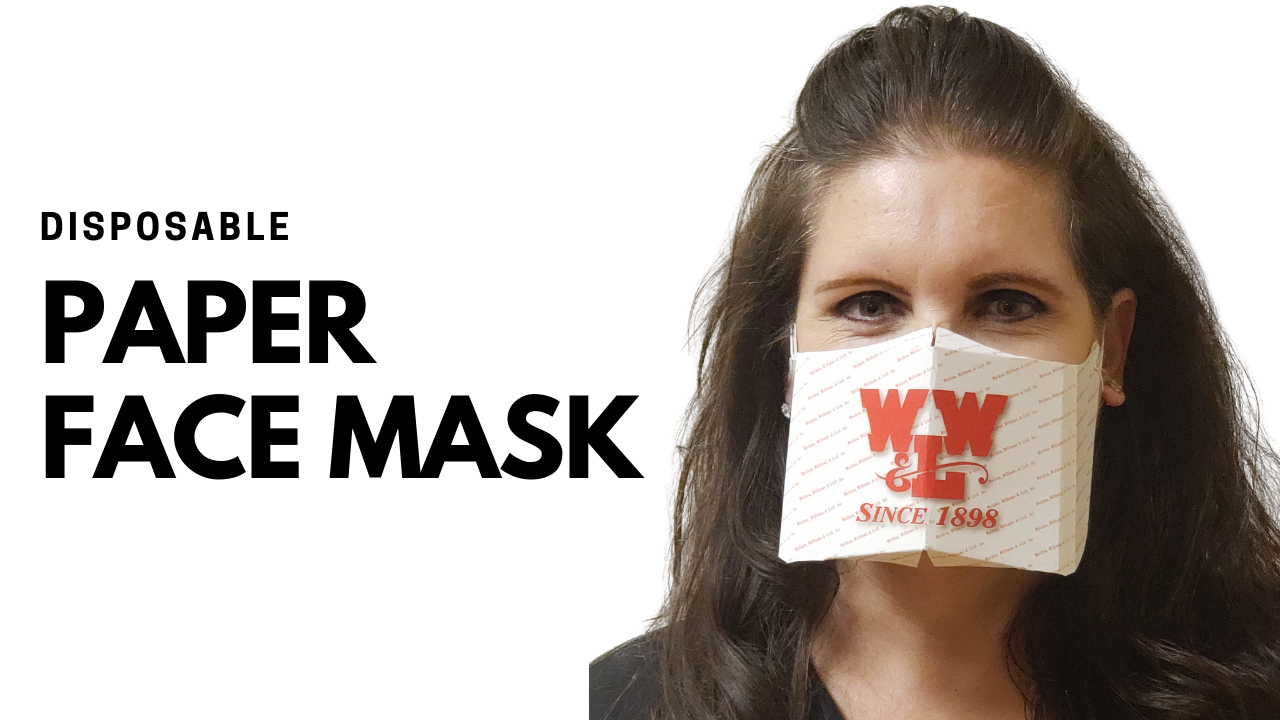 Product Details
Pack of 500 ( 500 Disposable Paper Masks per Carton). Custom printed mask made from recyclable paper.
The CDC continues to study the transmission of Coronavirus from person to person. In light of recent discoveries, the CDC recommends wearing a face covering to prevent the spread of droplets through common person to person interactions, such as sneezing, coughing, and speaking. To prevent the spread, you can wash your hands often, limit close contact with others, and avoid touching your face. Our disposable paper mask helps to do just that. Wearing a face covering over your mouth and nose can help assist you in reducing the spread of the virus by adding a layer of protection between you and others and helping you not touch your nose and mouth during times were social distancing is difficult to maintain.
All WW&L Disposable Paper Masks are custom printed for your organization. Check out some of our designs below.
Product Specifications
500 Pack (500 Custom Disposable Paper Masks per Carton)
Adult & Youth Size Available
4 Color Process Custom Front
White Inside
White Elastic Loops on Each Side
Packaging 500 per Carton

Intended Use: Daily activities where social distancing can be difficult.
It helps shield the mouth and nose and aids in not touching your face.

Disposable paper masks are not made with rubber latex and are not intended for use by medical professionals.
ATSM LEVEL: LOW PERFORMANCE
Molded Utility Face Mask
Physical Barrier Only
No LEVEL Performance Level


Pricing Information
500 Pack (500 Custom Disposable Paper Masks per Carton)
| | |
| --- | --- |
| 2 Cartons (1,000 Masks) | $1.36 Each Mask |
| 5 Cartons (2,500 Masks) | $0.81 Each Mask |
| 10 Cartons (5,000 Masks) | $0.62 Each Mask |
| 15 Cartons (7,500 Masks) | $0.56 Each Mask |
For bulk orders of more than 15 Cartons contact our Business Development Managers for Assistance.
---
---
Warnings
This mask is not a respirator and is not intended for medical professionals. This product is intended for general purpose infection control practices as recommended by the CDC. When worn properly, the disposable masks reduce potential contact by the wearer to droplets and fluids but DOES NOT eliminate the risk of contracting any disease or infection. Change immediately and wash hands if exposed to a bodily fluid.